In Memory
Doug E. Hupp (Married To Classmate Kathy Petr) VIEW PROFILE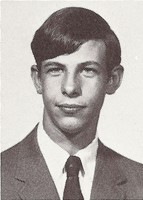 Douglas Elton Hupp, 52, Topeka, died Wednesday, Jan. 28, 2004, at a Topeka hospital. He was born Dec. 18, 1951, in Topeka, to Henry and Mildred Shirley Hupp. Hegraduated from Topeka High School with the class of 1969 and attended Washburn University. He worked for Southwestern Bell Telephone as a systems tech for 31 years. He was a member of the Mayetta Lodge No. 393 AF&AM, Arab Shrine of Topeka and Communications Workers of America No. 6401. Doug and Kathryn Petr were married on June 7, 1975, in Lawrence. She survives. Other survivors include his daughters, Sara and Caitlin Hupp, Lawrence; a son, Sam Hupp, Topeka; his parents, Henry and Mildred Hupp, Topeka; and a brother, Greg and his wife, Connie Hupp, Topeka. Mr. Hupp will lie in state at Kevin Brennan Family Funeral Home from 1 to 5 p.m. Sunday, where family visitation will be from 3 to 5 p.m. Funeral services will be at 10 a.m. Monday at the funeral home. Burial will follow in Memorial Park Cemetery. Memorial contributions may be given to the Hupp Children Educational Fund or Mayetta Lodge No. 393 Building Fund and sent in care of Kevin Brennan Family Funeral Home, 2801 S.W. Urish Road, Topeka, 66614. Online condolences may be sent to www.kevinbrennanfamily.com .
Published in Topeka Capital-Journal on Jan. 30, 2004
https://www.legacy.com/obituaries/cjonline/obituary.aspx?n=douglas-elton-hupp&pid=1857897&fhid=4958
Click here to see Doug E.'s last Profile entry.