In Memory
Jonathan B. Hysten VIEW PROFILE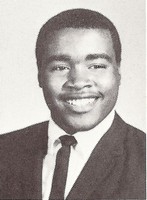 A funeral service will be at 11 a.m. today at Bowser-Johnson Funeral Chapel for Jonathan Byram Hysten, 52, Topeka. He died Saturday, Oct. 2, 2004, at a Topeka hospital from heart complications. Jonathan was accomplished both academically and athletically speaking. He extended his education while working at Topeka State Hospital and at Goodyear Tire & Rubber Co. He was blessed with an entrepreneurial spirit that soared in various business endeavors. He was a restaurateur and drapery installer, to name a few. Jonathan Hysten embodied the giving heart and blessed voice of an angel. He will forever be remembered as both kind and exceptionally gifted. Jonathan s legacy continues with his lovely companion, Linda Scanland, and godchild, Kaijaunique, both of Topeka; his parents, Warren and Peggy Hysten, Topeka; his sister and brothers, Julia Hysten-Pipkins and her husband, Raymond Pipkins, Gulfport, Miss., and Jerry Hysten and his wife, Florence, and Jack Hysten, both of Topeka; a nd a host of other adoring family and friends. Burial will be in Mount Auburn Cemetery.
Published in Topeka Capital-Journal from Oct. 5 to Oct. 6, 2004
https://www.legacy.com/obituaries/cjonline/obituary.aspx?n=jonathan-byram-hysten&pid=2676418
Click here to see Jonathan B.'s last Profile entry.