In Memory
John R. Patton VIEW PROFILE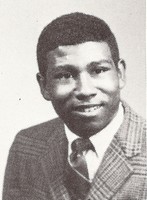 John Johnny Robert Patton, Sr. went to be with the Lord April 02, 2012 at his home in Roy, Utah. He was born April 20, 1951, in Topeka, Kansas to Lena M. Patton and John Gore (deceased) and raised by Lena Patton and Wilbert Russell. Both parents, a sister Loretta Canady and grandson Kenneth J. Ponce preceded him in death. He attended Topeka public schools and found a love for photography at Topeka High graduating in 1969. John was drafted by the U.S. Navy and served in both Vietnam and Spain. After an honorable discharge, Oxnard, CA became his home where he attended Ventura College and Beauty school, becoming a licensed Hair Stylist. He met and married Zenaida T. Capili December 24, 1979 in Monterey, CA. In the 1980s, John founded Patton Enterprises, Inc. after local news reports that homeowner's curb addresses weren't visible enough for emergency services. Walking door to door charging $5.00 per home, he updated curbs using illuminated white paint. With his success, he purchased an old fashion 3-wheeled bright yellow ice-cream truck he used for advertisement. After 25 years of dedicated service working for California American Water in Newbury Park, CA he retired as Field Manager then moved to Roy, Utah. He leaves behind his loving, devoted wife Zenaida T. Patton; aunts Lillian Fisher of Topeka & Laura Scales (Merritt) of Oklahoma City, OK; brothers, Pastor Anthony R. Patton (Lori) of Sacramento, CA; Wilbert D. Russell & Joel L. Russell, Topeka, KS and sister, La Von M. Russell of Bakersfield, CA. He leaves his legacy and love to his children Dominic Yancy (Topeka); Romel & Elizabeth Ponce (Hawaii); John Patton 'JP II' (Roy, UT); Rosalyn 'Sally' & Alfred Petmecky (Clinton, UT); Christopher & Dina Patton (Orange County, CA); John Patton 'John-John' (Oxnard, CA); and Russell L. & Breyana Patton (Roy, UT). He was a special father for 2 of his nephews, Dani Russell (Atlanta, GA) & Kempton Coman, Jr. (Bakersfield, CA) who spent their childhood summer months in Oxnard with Uncle John and family. John was the proud, loving grandfather of 17 beautiful grandchildren whom he adored~HE WILL BE GREATLY MISSED. John Robert Patton Sr.
Published in Topeka Capital-Journal on Apr. 6, 2012
https://www.legacy.com/obituaries/cjonline/obituary.aspx?n=john-patton&pid=156879149
Click here to see John R.'s last Profile entry.