In Memory
P. David Swafford VIEW PROFILE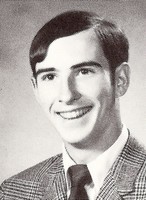 Paul David Dave Swafford, age 61, of Topeka, passed away Sunday afternoon, September 16, 2012 at a Topeka hospital. He was born October 5, 1950 in Excelsior Springs, Missouri the son of Paul and Eva Nell Holt Swafford. He graduated from Topeka High School in 1969. Dave married Joyce Kobiskie September 12, 1970, they later divorced. He served in the U.S. Army during Vietnam. Dave worked at the Topeka V.A. Hospital for over 32 years. Dave was a member of the V.F.W. in Topeka. He is survived by two sons, Mark Swafford (Sarah) of Topeka and Ian Cridlebaugh (Angie) of Des Moines, Iowa; a sister, Merry Glover of Topeka and four grandchildren, Nicholas, Ava, Noah and Jaden. Dave enjoyed attending his grandchildren s sporting events. Funeral services will be Friday, September 20, 2012 at 10:30 a.m. at the Davidson Funeral Home. He will lie in state Thursday from noon 8:00 p.m. at the Davidson Funeral Home with visitation from 6:30 p.m. 8:00 p.m. Interment will be at the Mt. Hope Cemetery. Memorial contributions may be made to the Topeka Veterans Hospital and sent in care of the Davidson Funeral Home. Online condolences may be made at davidsonfuneral.com.
Published in Topeka Capital-Journal on Sept. 18, 2012
https://www.legacy.com/obituaries/name/paul-swafford-obituary?pid=159961007
Click here to see P. David's last Profile entry.