In Memory
Maureen K. Appenfeller VIEW PROFILE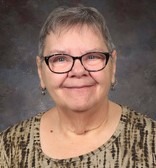 From McCurdy Ministries Community Center:
Pastor Maureen Appenfeller, 69, a retired clergy member of the Great Plains conference, born March 1, 1951; died May 4, 2020. She served churches in Harveyville, Portis and Downs, Kansas, before her retirement in 2018. After retirement she became a volunteer staff dorm host for the McCurdy Ministries Community Center in Espanola, New Mexico.
A service will be planned in New Mexico at a later date. McCurdy Ministries has asked if there are memories to be shared with family or staff, they can be emailed to dloomis@mccurdy.org.
From the Great Plains Conference, United Methodists:
We are saddened to share the passing of Rev. Maureen Appenfeller today after having a massive stroke last Friday. Maureen volunteered full time as our Dorm Host for two years and she was much loved by our volunteers, our staff and our students.
Ms. Patricia Alvarado, executive director, says, "Maureen had told her sister that she had come to love New Mexico and McCurdy was her home. She wanted to be here if anything ever happened to her. Maureen was a gentle, kind, and loving soul who always had a smile and a greeting for everyone that would light up your day. She had a keen sense of humor that could help make your day and she knew when you needed a pick-me-up! She was always willing to help in any way she could. In addition to being Dorm Host, she came to be a very valuable part of the Big Buddy/Little Buddy program as she helped with supervision of the Big/Little visits that took place so that the counselors could continue to meet with their clients and support groups.
Rev. Diana Loomis, director of development/church relations, says, "Maureen volunteered thousands of hours to help make our volunteers at home in our dorm. She was a welcoming spirit with a twinkle in her eye and a willingness to make God's difference for others even in retirement. While we rejoice that she is with God, we grieve for all who will miss her including her sister, brother and the McCurdy Staff."
If you have a memory of Maureen that you will like to share with her family and the staff please email it to dloomis@mccurdy.org. Please keep her family in prayer as they go through this period. A memorial service will be held for Maureen on the McCurdy campus after we can gather once again.
Click here to see Maureen K.'s last Profile entry.