Topeka

High School




Class Of 1969
Recent happenings...
Classmates got together for lunch on Wednesday, May 11, 2022 at Annie's Place in Topeka. A fun time was had by all! Watch for announcements about future mini-events like this, hopefully a couple times a year.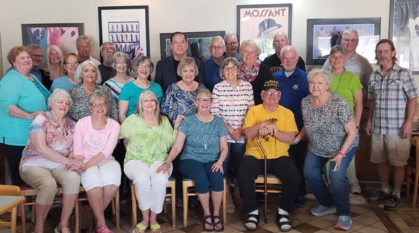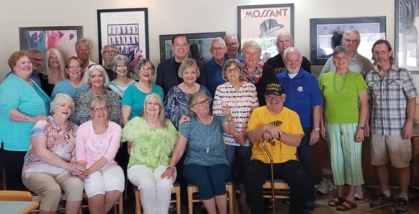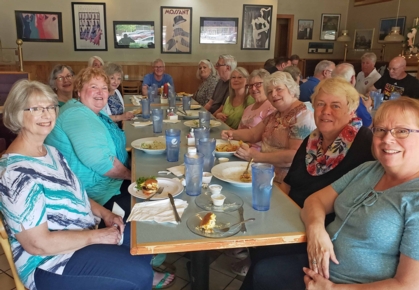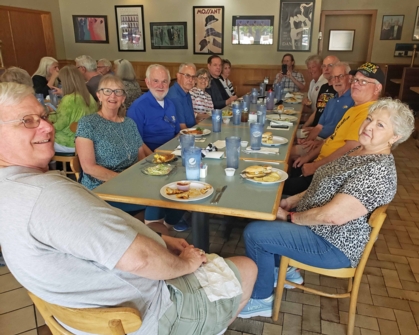 Check our THS Class of '69 Facebook page for more photos!
---
(You must be a member of our class website to access certain pages. Click on "Join Here" link at upper right, under the THS Tower... your email address is your username... enter password of your choice. For assistance, contact Jenith Paris Hoover, 785-230-3135 or robnjeni51@gmail.com)
---
What a weekend! Smiling faces everywhere from start to finish!
Over 150 classmates -- and their guests, bringing the number to around 200 -- attended and had a great time, from Friday morning's golf tourney at Shawnee Country Club, to the Meet & Greet hosted by Dale & Maggie Warren, to the Halls of Troy Saturday morning, then our Main Event party at the Ramada... and last but not least, a fine jam session at Snyder's Cabin in Gage Park on Sunday.
Photos are now posted in the Class Reunions Gallery! Click on "Class Reunions" on the left menu bar.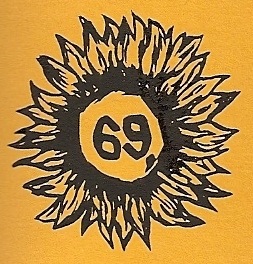 Many thanks to the planning team and everyone who attended. By popular demand, plans for future reunions will be in the works!
---
At our Main Event Party Saturday night, 1969 Student Congress President Bruce Honeyman shared some reflections with classmates. Click here to read his remarks.
Thanks, Bruce, for your thoughtful insights.
---
Many thanks to Donna Dale Wyckoff for creating and donating the '69 sunflower emblem coasters for our reunion!
For an exclusive look (on Facebook) into the making of the patches, Click Here and Here!
Or use these vimeo links, with password sunflower1969:
Digitizing of the '69 Sunflower emblem.
My Tajima sewing out the '69 sunflower emblem.
If you weren't able to attend the reunion or didn't get your coaster and would like to have one, click on Donna's name above to see her profile, then "Send Donna D. a private message." (You must be logged in as a member.)
---

HELP US FIND OUR "MISSING" CLASSMATES! While we have a pretty good handle on most of our classmates' whereabouts and contact information, a number of them are currently "missing" -- we do not have a valid mailing address (or phone number, or email) for them in our records. You may be able to help! Please click on the "Missing Classmates" link on the left menu (5th link from the top) and look over those names. If you are in touch with any of these classmates, or know their current mailing address, phone number, or email, please contact Jenith Paris Hoover, 785-230-3135, robnjeni51@gmail.com or Mark Neis, 785-354-1471, mark.neis@neismichaux.com.
---

Remember, this website is all ours to help us get & stay in touch, catch up on each other's lives (by sharing photos and information), and enjoy many other cool features. You can create your Profile and add photos, then IM and chat with other registered classmates, submit class and reunion photos or reminiscences, and manage your notifications. Then spread the word to other members of the Class of '69 and see how many Classmate Profiles we can get on our website! PLEASE MAKE SURE YOUR PROFILE IS UP-TO-DATE!
* * *
---
Fun Gallery Pages!
Back by popular demand, class photos from elementary school and junior high days! Click on Distant Memories on the menu on the left of the screen. Also, images of treasured items from back in the day! Click on the Memorabilia link on the menu. If you have similar photos or images you'd like to share with the class, email JPG images (preferred) or PDF files to Jenith (Paris) Hoover, robnjeni51@gmail.com.
Enjoy!